Recently, at the 2021 expert said uvc-led advanced application conference jointly organized by expert said and UV LED wind direction, Dr. Chen Jingwen of Hubei Shenzi Technology Co., Ltd. gave a keynote speech on "making the world free of" hard to sell "uvc-led", to share the challenges and opportunities faced by the uvc-led market for guests.
As an advanced version of "let the world have no difficult uvc-led business", from "not difficult to do" to "not difficult to sell", deep purple technology still gave the answer from three levels. In addition, at the meeting, it revealed the latest mass production and shipment data and the application of new products and new technologies.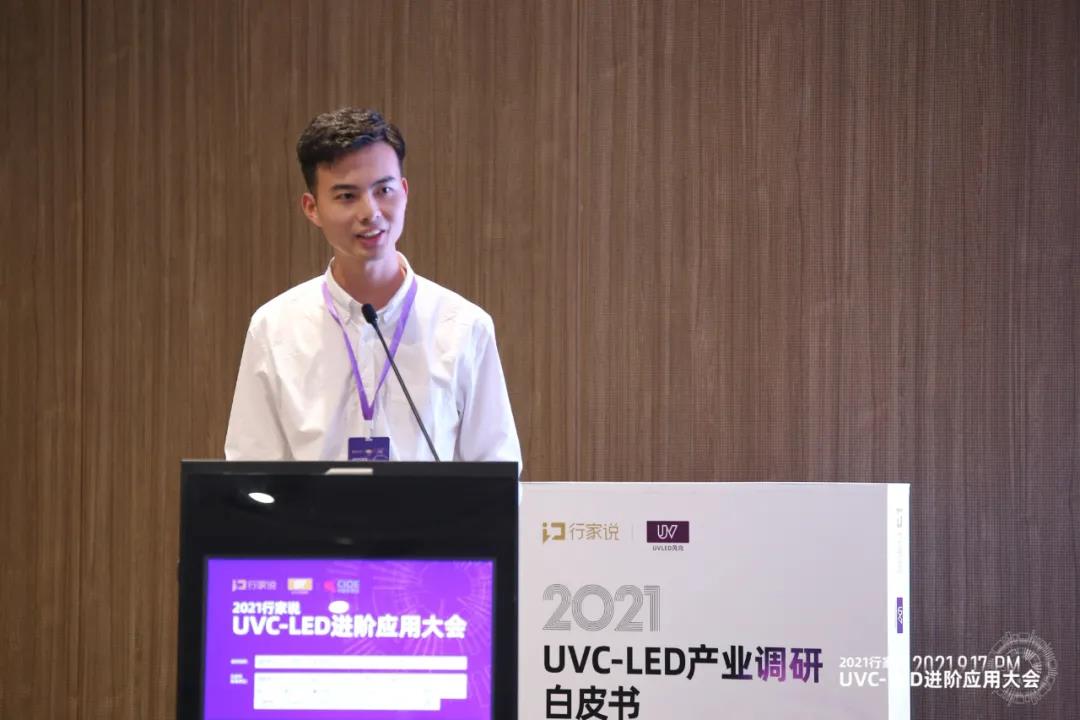 2021: it has taken the lead in realizing 30KK mass production and shipment
As an upstream manufacturer of uvc-led, deep purple technology has been deeply engaged in UVC led since 2008. At present, it has achieved mass production and sales of chips and lamp beads for more than 3 years, and has 42 domestic patents and 6 international patents. Dr. Chen Jingwen mentioned that good products are the eternal pursuit of consumers, and improving the brightness and service life of uvc-led products is the goal that uvc-led practitioners have been pursuing.

In view of this, deep purple technology released two new UVC chips cfas20m and cfas20a at the conference, pointing to the high-end market. Dr. Chen Jingwen pointed out that the light efficiency indexes of the two chips have reached the leading level. Among them, the brightness output of cfas20m chip is distributed in 8 ~ 10MW gear at 40mA, accounting for 56%, and the brightness output of cfas20a chip is distributed in 15 ~ 20MW gear at 100mA, accounting for nearly 80%. The price is also very cost-effective. Since 2021, 30KK level mass production and shipment have been realized.
According to Dr. Chen Jingwen, the QNB platform lamp bead product released simultaneously with the chip has no fear of red ink test, and the scene applicability is significantly enhanced. It adopts AlN ceramic + planar lens near inorganic packaging structure, which can be matched with 1020mil chip or 2020mil medium power chip, and is compatible with UVA two-color scheme.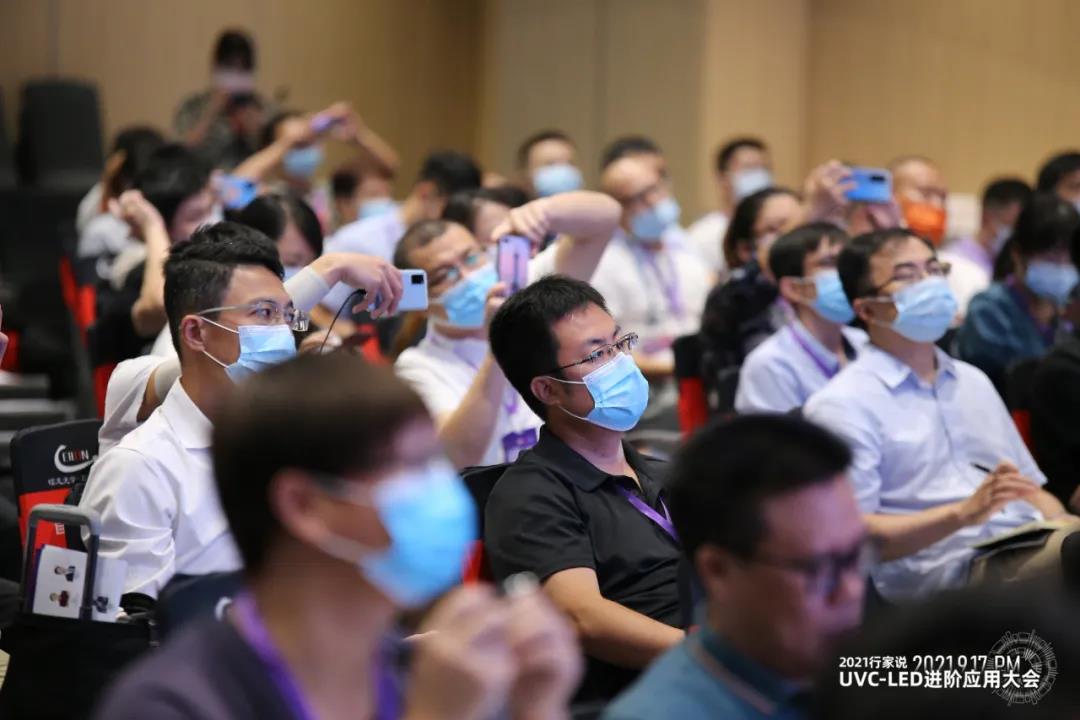 Meeting site
Chip brightness: overall increase by 50%; Device: "no color difference" light source is gradually mass produced
High quality uvc-led products are inseparable from the force of technology, which is also one of the reasons for the explosion of orders. Deep purple technology focuses on light efficiency, n-contact, WPE and color difference control.

According to Dr. Chen Jingwen, compared with last December, the overall brightness of deep purple technology chips has increased by 50%, and the improvement of mass production chip n contact performance has led to the decrease of chip voltage VF, which is generally lower than 5.5V, a decrease of 1V compared with 2020. The decrease and concentration of uvc-led chip voltage has increased WPE (increased by 0.5%), making the driving of higher current feasible, The energy consumption of consumer electronic products is reduced and the cost of driving circuit is lower.
In batch application, the color difference in uvc-led batch is the main problem perplexing the application manufacturers, such as hanging air conditioning sterilization module, lamp tube uvc-led sterilization lamp, cob high-density light source, uvc-led lamp belt, health lighting lamps, etc. when using the same batch of products, due to the colorful naked color, the color abnormality visible to the naked eye occurs when multiple lamp beads are applied. Through a large number of experiments and improvements in convection field, temperature field and equipment, deep purple technology has greatly improved the thickness uniformity and defect distribution uniformity of epitaxial wafer, and greatly improved the on-chip consistency of cow chip. Further sorting and packaging the areas with high consistency can obtain the "no color difference" uvc-led bulb light source with high color difference consistency, which has been gradually applied in mass production products.
Service ecosystem: customization + multidimensional simulation tool
The development of an industry depends not only on technological progress and product iteration, but also on one click convenient service for the industry. "Good service" is also a winning path for business.
According to Dr. Chen Jingwen, deep purple technology provides external epitaxial film customization services to help the research progress of scientific research institutes. This customization mode breaks through the combination of enterprises and colleges, can feed each other and jointly promote the development of the industry. In addition, after various tests, the application theory and solutions of deep purple technology in new energy vehicles and health lighting are relatively mature, and the application prospect is good.
It is worth noting that the strength simulation tool for low-pressure UV mercury lamp was released last year, and the simulation results of the tool are highly close to the measured values, which can be effectively used to evaluate the surface radiation intensity of UV lamp tubes, and then convert the uvc-led scheme. After that, the service ecosystem on the official website is further enriched this year, supporting solutions, documents, self-service tools and multi-dimensional technology sharing services.
"Let the world have no hard to sell UVC LEDs" does not stay in the slogan stage. Deep purple technology truly explains the value orientation of deep purple technology from three value chains: technical value, product value and service value.
In addition, it is noteworthy that at the 2021 expert said Aurora award ceremony, deep purple technology, with its own excellent strength, won the unanimous recognition of peers, supply chain, customers and the organizing committee. At the same time, it won the two awards of "top ten supply chain stars of UV LED chips" and "top ten supply chain stars of uvc-led packaging".